Search Engine Optimization
Maximize Traffic, in Google
Organically improve your visibility by adapting your communication strategy to your customers' needs and search behaviors.
Set and forget for a website is no longer an option in an increasingly competitive online space. Let us help you define your SEO (search engine optimisation) objectives & develop a realistic digital marketing strategy to boost your search engine ranking.
Strategies Driven by Data and Process
SEO Methods
Link Building
The strategy of establishing your brand on prominent websites.
Site Optimization
On-page optimization that drives more traffic, leads and sales.
Content Strategy
Know your audience, leverage and build a content persona.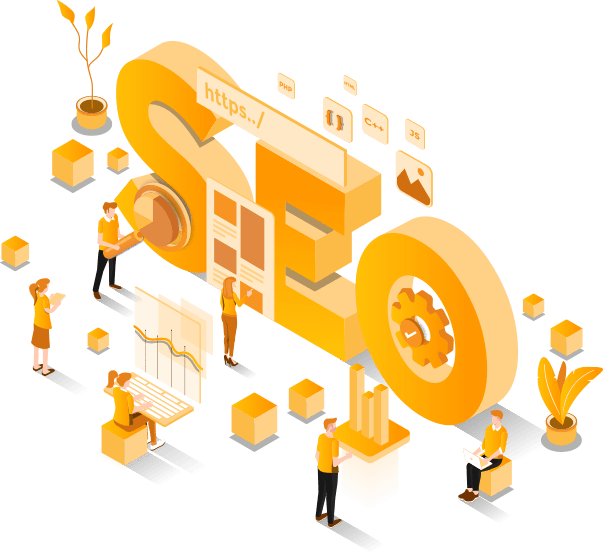 SEO Site Audit
A comprehensive website audit prepared by an seo expert.
Brand Management
Build customer relationships with social media components.
Keyword Analysis
Use the right words to boost traffic, and increase visibility & ranking.
Customer-oriented Strategy
Working
Don't lose leads to your competition, rank at the top of Google and convert clicks into customers with our Customer-centric approach.
Fixed monthly fees with services tailored to fit your website and your online business objectives.
committed to using white-hat, ethical SEO techniques & strategies. We never use black-hat, quick fixes.
We stay abreast of all the latest SEO industry news and best practices that gives us the competitive edge.
SEO services that raise your online presence and turn Google searches into website visitors.
Frequently Asked Questions
SEO FAQs:
How long does it take to get results?
If you are expecting amazing results in as little as one week, then I am sorry to disappoint you. For a brand new site with zero rankings, just getting indexed and seeing those keywords push your page one spot higher is quite exciting, while on a mature site getting a keyword to go from position #15 to the #2 spot might require a lot more patience and strategy.
We encourage clients to have fair expectations, organic SEO takes time. It can be months before you see the full effect of our efforts. And, Yes! You will see incremental gains, but usurping your competitors' positions will require time.
How do I know my SEO campaign is working?
The most obvious sign will be a gradual increase in keyword rankings. You can also use SEO audit tools to check whether an SEO strategy is working or not. For example, Google search console and Google Analytics can help you gauge the relevant metrics.
How Often Should SEO be Done?
SEO is an ongoing process that involves ensuring your website's content aligns with the needs and wants of your customers. As a result, SEO should be seen as an ongoing business activity rather than a one-time exercise.
How Do I Avoid Google Penalties?
9BRAVO uses only White Hat SEO techniques, so you will not have to worry about being penalized or banned. All of our techniques are described to you and we keep you informed as to what we are doing so there are no surprises.
What are Keywords?
Keywords are highly searched and relevant words that are embedded in a website's content, titles, and short description previews in Google search results. The title of this page is "Search Engine Optimization",  which is a keyword that people search for in the query when they need information about tis subject.
What Is Black Hat SEO?
Black hat SEO tactics are those that are meant to trick the search engines or site users in an effort to create a shortcut to higher search rankings.
These strategies may involve employing duplicate or subpar material, purchased link schemes, cloaking (delivering alternate information to users and search engines), keyword stuffing, and attempting to disguise keywords on the website (like using text the same color as the background). These strategies all go against what the major search engines consider to be best practices. They waste time and are terrible ideas.
Does SEO Really Matter?
SEO matters if your business strategy depends on attracting potential customers online. It's not the only aspect you need to consider, PPC and social media being two others, but if you want people searching in Google to find your business, SEO matters.
What is the difference between SEO and PPC?
Yes, SEO is different from PPC. However, the difference is just limited to the way they bring traffic to the website. PPC is used for paid traffic generation, and SEO is for organic or unpaid traffic generation.
Is Google Adwords part of SEO?
Google Adwords, or as it is now known, Google Ads, is an advertising platform where advertisers pay when their adverts are clicked. The adverts are placed on search engine results pages. Those adverts have no connection to SEO and do not help in boosting rankings.
What SEO Tools do you Recommend?
Many software tools can help you execute SEO more effectively. For example, Google's page speed tool can help you improve the speed of your website, a ranking factor, and their Structured Data tool can help ensure their search engine can better understand your content.
Commercial tools like SEMRush and SimilarWeb can help you analyse your competitors' websites and find valuable search terms to use in your content.
What Are META Tags?
META tags are included in the section of the html code that makes up a web page. They include both a description and keywords . These tags told the search engine spiders what a website is about, helping them to categorise a website in their database. However, due to rampant abuse of these tags by SPAM driven sites, the major search engines place very little to no importance on these tags when determining the position of sites in SERP.
What Does SERPS Mean?
An acronym for Search Engine Results Pages. This term is used to describe the list of web sites that are returned by the search engines in response to a query by a user. For example, if you were to type "Eco-Friendly Resort" into Google and hit Enter. The list of sites that you get back from Google is the set of SERPs. As a site owner your aim is to be in the top position or as near as possible in the SERPs.